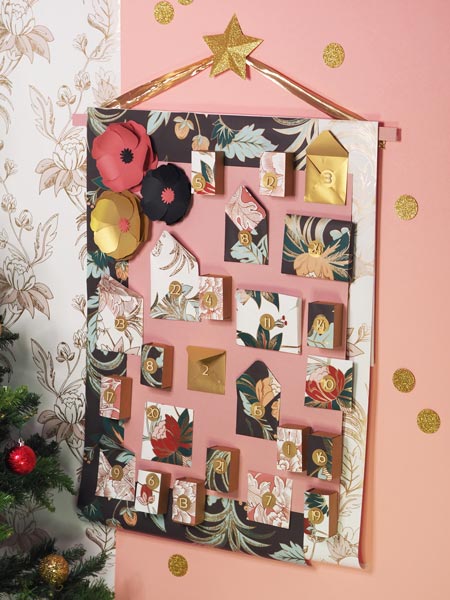 18/11/2020
DIY - Advent calendar
Make your advent calendar thanks to the tutorial from Kriboute.
To your wallpaper scraps!
Steps of realization :
Step 1 : Choose your papers.

Step 2 :

Cut pieces of your chosen wallpaper to be able to create your envelopes.

Step 3 :

Using the template, cut out your envelope.

Step 4 :

To customize the inside of your envelope, cut and glue another wallpaper pattern on the back.
Step 5 : Then fold your envelopes, leaving the upper part open (to reveal the other design).
Step 6 : You can now customize, here I have decided to add a small golden sticker.
Step 7 : Add the dates of the advent.
Step 8 : You are going to need some small cardboard boxes.
Step 9 : Cut your wallpaper to the size of the box surface.
Step 10 : Glue your paper to the cardboard box.
Step 11 : On a square of artists foam board, glue your paper to the desired length.
Step 12 : Add if you wish a second paper design, always applying firmly to the foam board.
Step 13 : You can also add a sheet of colored paper to brighten up and make your wallpaper design stand out.
Step 14 : On the back of the foam board, glue the support you have selected, a piece of wood for example, here we used a piece of cardboard covered with paper in the same color for a clean look. You just need to add a nice ribbon.
Step 15 : You can now start hanging your decorations, your small boxes and envelope creations.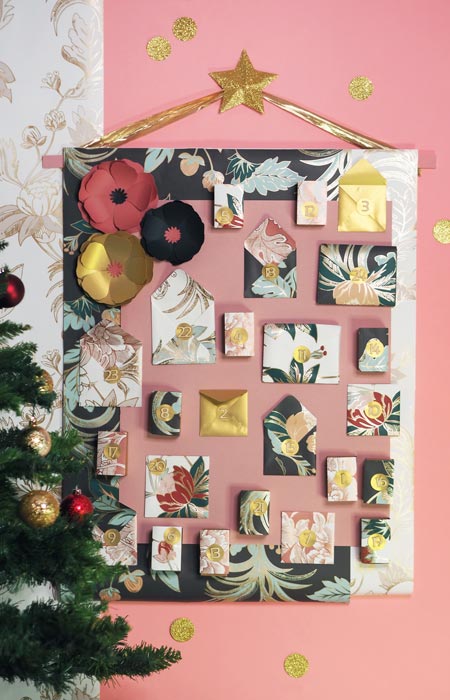 Your calendar is ready to help you countdown to Christmas.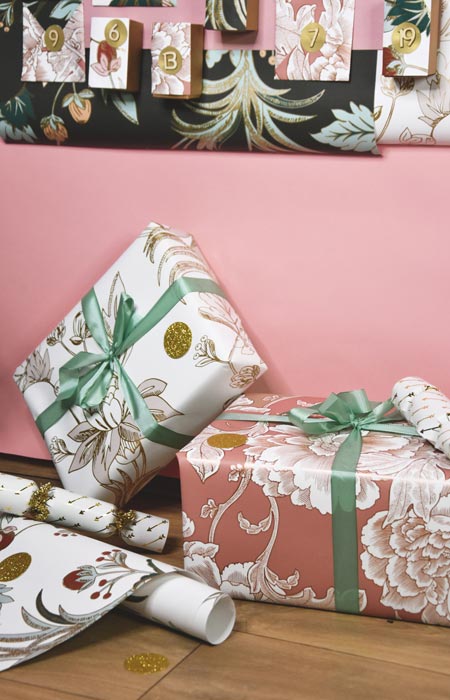 And if you have some paper leftover, don't hesitate to use it for your Presents!